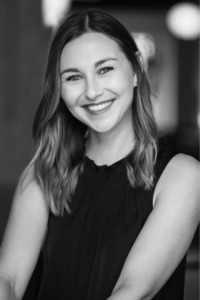 ABOUT ALLISON:
Why did you get into real estate?
I've always loved the idea of helping people find a home and being a part of such a huge decision in their lives. I wanted to be that source of guidance, support and knowledge for homebuyers. It can be a stressful process but also a very exciting one! I am attracted to the personal aspect of it; finding a home for a buyer's specific needs and for their unique stage in life whether that be a growing family or empty-nesters ready for a change of pace!

What is your favorite weekend activity?
Spending time outside with friends and family whether that be on the lake, on a walk with my dog and baby boy, or at a local brewery!

What is your favorite type of food?
I love spicy thai food!

What is your favorite restaurant in Austin?
JOI at the domain is one of my new favorites!
Do you have any pets?
Yes, a 10 year old mutt named Roscoe. I am big on rescuing all of my animals!
What is your favorite movie?
Bridesmaids

What is your favorite thing about your career?
The personal aspect of it- finding the right home for buyers based on their specific needs at the time, and for sellers helping them navigate through this hot Austin market!
What is the best piece of advice you have ever received?
It's not about what you do, but how you do it. Do everything in love.
Why do you love Austin?
The food, the music, the lakes, & the energy of town lake and downtown Austin!