Restaurant Spotlight: Canyon Grille
Posted by Shawn Culhane on Thursday, March 30, 2017 at 3:26 PM
By Shawn Culhane / March 30, 2017
Comment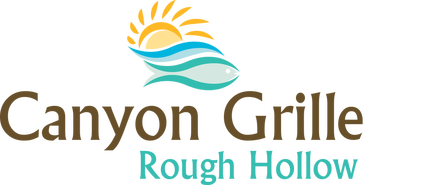 Known as one of the top spots for dining near the lake, Canyon Grille provides patio dining and much more. It's an upscale/casual spot with a laid-back fee and great food.
Canyon Grille used to be known as The Grille at Rough Hollow because it's in the Rough Hollow development. However, the name was changed and now the restaurant offers southwestern cuisine with plenty of wine and drinks on the menu. Whether you come in for a romantic dinner or you want to bring the family, it's an inviting place with plenty of good things to enjoy.
The Menu
Plenty of excellent options are found throughout the menu with house specialties, burgers, sandwiches tacos, salads and more. They offer everything from a Black & Blue Burger to Fish & Chips to Filet Mignon. Plenty of starts are available with excellent soup a few good salads and a selection of good tacos.
Along with the regular menu, Canyon Grille also offers a Sunday Brunch menu. Enjoy a Rough Life Omelette, Salmon Benedict, Waffle & Fried Chicken along with other options. They even serve mimosas, blood mary's and other drinks for brunch.
The drink menu offers a number of great options, as well. The restaurant specializes in margaritas and other tequila drinks including:
Premium House Margarita
Jalapeno Margarita
Rough Life Margarita
Skinny Margarita
Chili Patron Martini
Naughty Martini
And More!
They also offer a few white and red wine options, along with excellent sangria.
Happy Hour
From 3pm to 6pm, Tuesday through Friday, you can come in and enjoy happy hour. Discounts include $2 off all wine by the glass and house margaritas for $5.
They also offer a few food specials for happy hour including:
Ceviche for $6
Espinaco Con Queso for $5
Shishito Peppers for $4
House Smoked Salmon for $8
Habanero Bacon Wrapped Shrimp for $8
The Space
When you dine at Canyon Grille you will get to enjoy some of the finest area views. The patio overlooks the Rough Hollow Yacht Club & Marina, which provides beautiful lawns full of flowers, palm trees and more.
The restaurant includes an all season patio because of the enclosure. It has large sliding glass doors, which can be closed or open and in the winter the patio is heated with two large fire pits. Whether just coming in for a drink or for dinner, the patio is a great place to sit.
Specials Throughout The Week
Canyon Grille provides specials from Tuesday through Sunday including:
Taco Night on Tuesdays
$6 Martinis for Ladies on Wednesdays and BBQ for Men
Half Priced Wine on Thursdays
Wranglers Fridays with Special Seating for Kids on Fridays from 6pm to 8pm
And More!
The Friday night special allows parents to bring their kids and let them have fun while mom and dad have a romantic evening. The cost is $20 per child and they will enjoy food and entertainment from the Canyon Grille Wranglers.
Location and Hours
Canyon Grille is found at 103 Yacht Club Cove in Lakeway, Texas. They are closed on Mondays and open from 11am to 9pm Tuesday through Thursday and on Sundays. On Friday and Saturday, they are open from 11am to 10pm.