Work Smarter, Not Harder – Slow Cooker Recipes to try this Fall!
Posted by Ryan Ernst on Wednesday, October 28, 2020 at 12:01 PM
By Ryan Ernst / October 28, 2020
Comment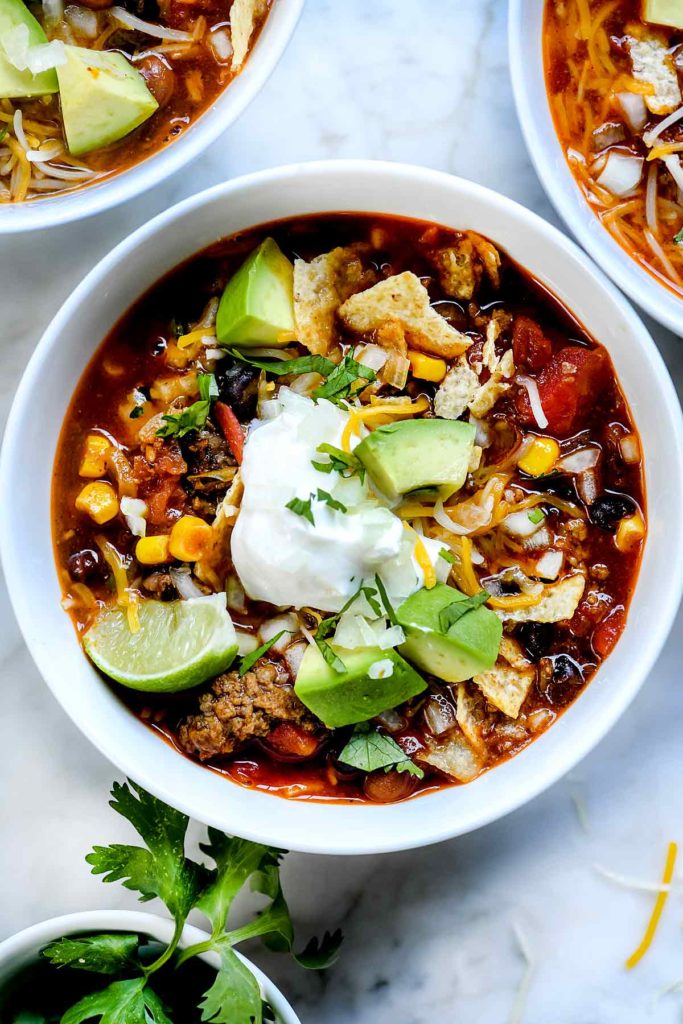 Moving into cooler months makes for a perfect time to bring out the good ole' slow cooker! If you grew up in the south, you'll likely know the comforting smell of coming home to fully cooked, simmering crock pot dinner. These meals are easy, timesaving and delicious! Many people think of comfort food dishes when they think of crock pot meals, but you don't have to limit your options there! From breakfast to desserts, you and your family can create delicious dishes again and again without the hassle extra prep work. Just dump the ingredients, set your time and temperature, and BOOM – a perfectly cooked meal waiting for your return!
Here are some of our favorite slow cooker recipes that'll save you time and keep you full!
Taco Soup:
Ingredients:
1 lb. of ground beef/turkey
1 Yellow onion
1 can Tomato paste
Canned tomatoes with green chiles (15 oz.)
Canned black beans (15 oz.)
Canned chili beans (15 oz.)
Frozen corn kernels (or canned works too) 16 oz.
1 tsp. of Ground chile powder, cumin, and garlic powder
A pinch of Kosher salt
Directions: In a skillet over medium heat, cook the ground beef, breaking into smaller chunks, until no longer pink. Add the onion and cook until it softens, about 3 minutes, then stir in the tomato paste, chile powder, cumin, garlic powder, and kosher salt, and cook for 2 more minutes, stirring often. Transfer the meat mixture to a slow cooker and add the tomatoes, black beans, chili beans, corn, and spices and stir to combine. Stir in 3 cups water. Cover and cook on low for 6 hours or high for 3 hours. Taste for seasoning and top with your favorite taco toppings before serving. Enjoy!
Apple Pie Oatmeal:
Ingredients
2 cups Steel Cut Oatmeal
7 cups Water
2 large Apples peeled, cored and diced
3/4 teaspoon Pure Vanilla Extract
1/2 teaspoon Ground Cinnamon
1/4 teaspoon Ground Ginger
1/4 teaspoon Ground Nutmeg
Directions:
Add all of the ingredients to a 4 quart or larger slow cooker and stir everything together to mix.
Cover and cook on LOW for 6 - 8 hours.
Serve and enjoy!
Link: https://crockpotladies.com/recipe/crock-pot-apple-pie-oatmeal/
Spinach and Artichoke Dip:
Ingredients
1 cup shredded mozzarella cheese
6 ounces Neufchatel cheese (cubed)
1/4 cup freshly grated Parmesan cheese
1 clove garlic (minced)
14 ounce can artichoke hearts (drained, rinsed and finely chopped)
8 ounces trimmed fresh spinach leaves (about 8 cups) 1/4 teaspoon freshly ground black pepper
Instructions:
In slow cooker stoneware, combine mozzarella, Neufchatel cheese, Parmesan, garlic, artichokes, spinach, and black pepper. Cover and cook on high for 2 hours, until hot and bubbly. Stir well and serve with homemade tortilla chips.